Stress and Isolation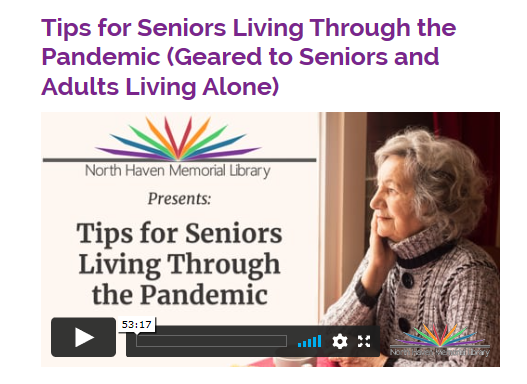 Dealing with Anxiety
The North Haven Memorial Library presented a series to help the community deal with stress and anxiety related to the COVID-19 pandemic. This talk was provided by our own Dr. Beverly Kidder.
Tips for Seniors Living Through the Pandemic

Staying Connected
Even with the loosening restrictions, there are continued restrictions that make connecting difficult during this time. This is especially true for our older adults and individuals with health issues who have been advised to continue to stay home.
Staying Connected at Home During COVID-19
Engaging Virtually
Mitigating the Risk of Social Isolation

Share Your Story
National Council on Aging - Life has changed so much since COVID-19 began spreading in the United States. The NCOA wants to hear from older adults, caregivers and those in the aging network.
Local Communities