Experience Corps

Volunteers Needed!
Be a tutor during the 2018-2019 school year! Find out more.

Information sessions are being held at community locations in New Haven, East Haven and Hamden. Click here for dates and locations.
Who We Are
Experience Corps – Greater New Haven is a local affiliate of an award-winning national program whose older adult volunteers helps struggling young students become great readers.
What We Do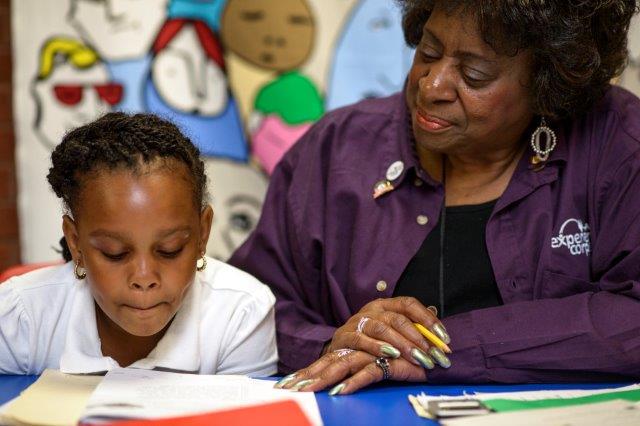 EC volunteers tutor students in Kindergarten through grade 3 who are struggling to learn to read and write. Each volunteer spends 2 or more days a week (average of 6 hours) during the school year tutoring in one participating school or after-school program in Hamden, New Haven and East Haven.
What is Required
Good literacy skills, a love of reading, to enjoy being with young children, patience, flexibility, an open mind, creativity and dedication. No prior teaching experience or experience working with children is required. Training is provided and volunteers receive regular support and supervision from Experience Corps staff.
Volunteers must be age 55 or over, have earned a high school diploma or equivalent and must pass a background check via fingerprinting.
As an Experience Corps volunteer, you will:
Help young children become better readers and students.
Share your experience and your love of reading and learning
Get hugs and smiles from the students you tutor
Have fun & make new friends
Learn new skills & enhance ones you already have
Stay physically and mentally active
Make a real difference in the lives of the children you tutor