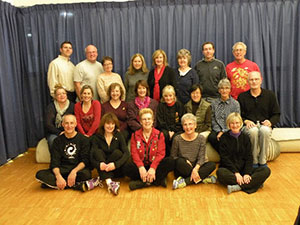 Keeping physically active not only strengthens bones and muscles, but also improves mental health and increases your chance of living longer. As you age, staying active also improves your ability to maintain an independent lifestyle. Did you know that one in three adults over 65 fall and that falls are the leading cause of injury death for this population? Falls are also the most common cause of traumatic brain injuries and most fractures among older adults are caused by falls.
Moving for Better Balance is a Tai Chi exercise program designed to improve balance and increase strength. It is an evidenced-based program developed and recommended by the Administration on Aging. The program consists of 12, two-hour sessions. Participants are pre-screened to ensure their ability to safely participate in the program.
A new class will begin in the spring at East Shore Senior Center in New Haven. For more information, contact jperez@aoascc.org.
AASCC receives funding through the Federal Older Americans Act for this program.
There is no charge for participation in the class, although donations are encouraged.
---
Comments: