Annual Report 2021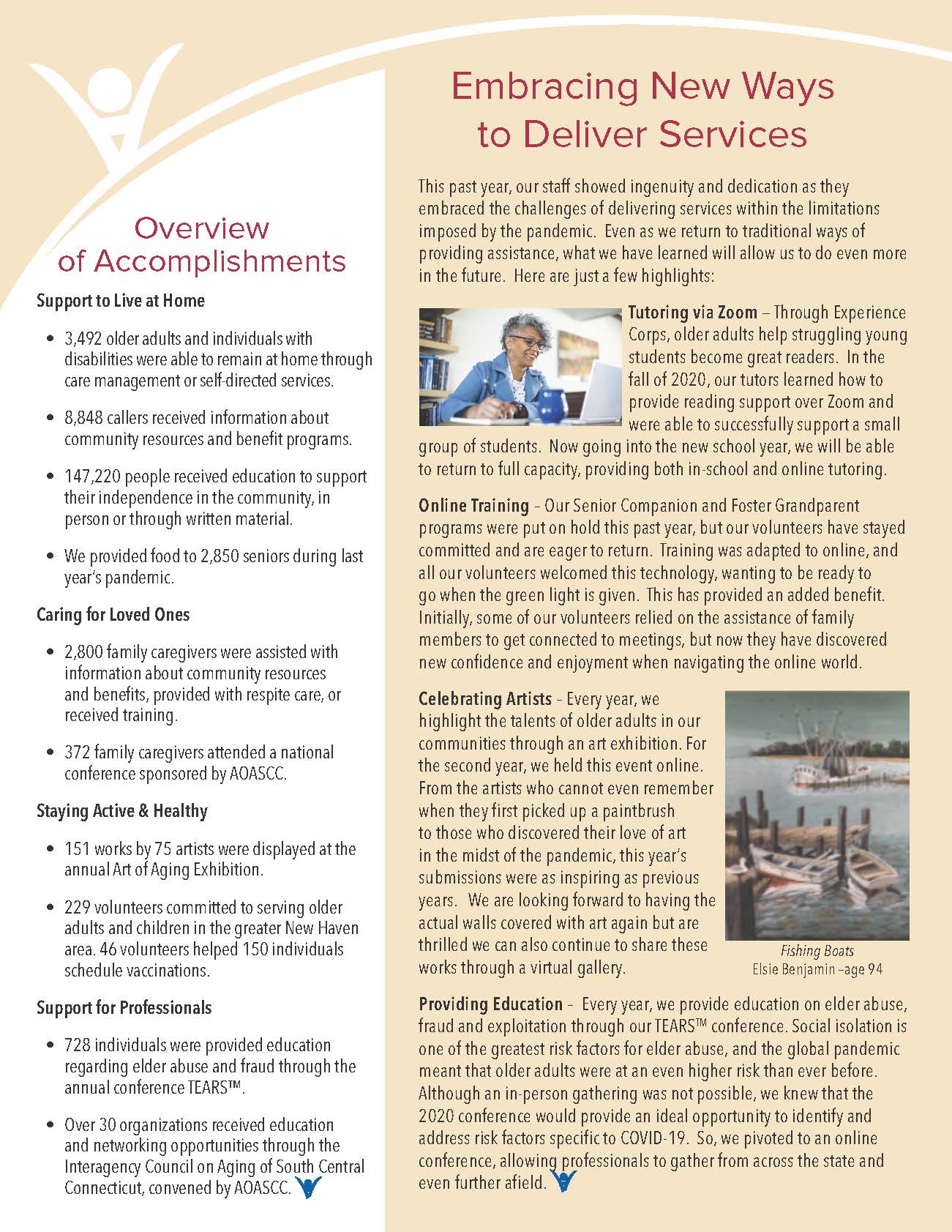 Click Here to read the full report
Dear Friends & Colleagues,
As we look back at this year, I reflect on how our agency continues to not only manage the challenges we face on a daily basis, but thrive, adding new programs and changing the delivery of services to ensure that we can fulfill our mission to empower adults to remain independent and engaged through advocacy, information, & services.
In this report, you will see how we impact the lives of nearly 15,000 older adults and individuals with disabilities every day. Our care management and transition programs continued to help individuals remain in the home of their choice, which also provides critical support to their caregivers. We continued to provide information and assistance to callers regarding benefit programs, health insurance and community resources. Although our volunteer programs were impacted, our amazing volunteers remained committed and are ready to get back into their places of service.
The pandemic brought new opportunities. We added a virtual support group to our existing services for caregivers. We started a program to provide grocery delivery when vulnerable individuals had to stay at home and, knowing the critical need, are continuing this service even now that vaccinations are available. When vaccinations became available, we stepped up and ensured that all individuals had transportation to their vaccine appointment - and volunteers to help them with all the details! Our Experience Corps volunteers tutored students online throughout the last year and now the program is back to full strength, providing reading support both virtually and on site.
Our two major events pivoted to virtual platforms. The online Art of Aging showcased artwork by 75 older adults. We hope to return to our in-person exhibition, but using a virtual format allows us to share the talents of these artists to an even wider audience. Our TEARS conference, which provides professionals with education regarding elder abuse and fraud, drew 700 participants from our area and around the country.
We also completed our Area Plan, which contains our planned activities under the Older Americans Act for the next three years. The pandemic gave us the opportunity to see the needs and strengths of our community from a different perspective and these lessons learned shaped the goals contained in this plan.
I am so thankful for the work of all those that have made what we do possible. Our incredible and resilient staff, our dedicated Board and Advisory Council, our donors and our partners. There are so many that we rely on to ensure that individuals in our community have the support they need.
I am looking forward to an even better year ahead and all of the ways that we are working together to shape this new environment.
Sincerely,
Melissa Lang, DrPH, MPH, MPA, MA
President & CEO