Annual Report 2022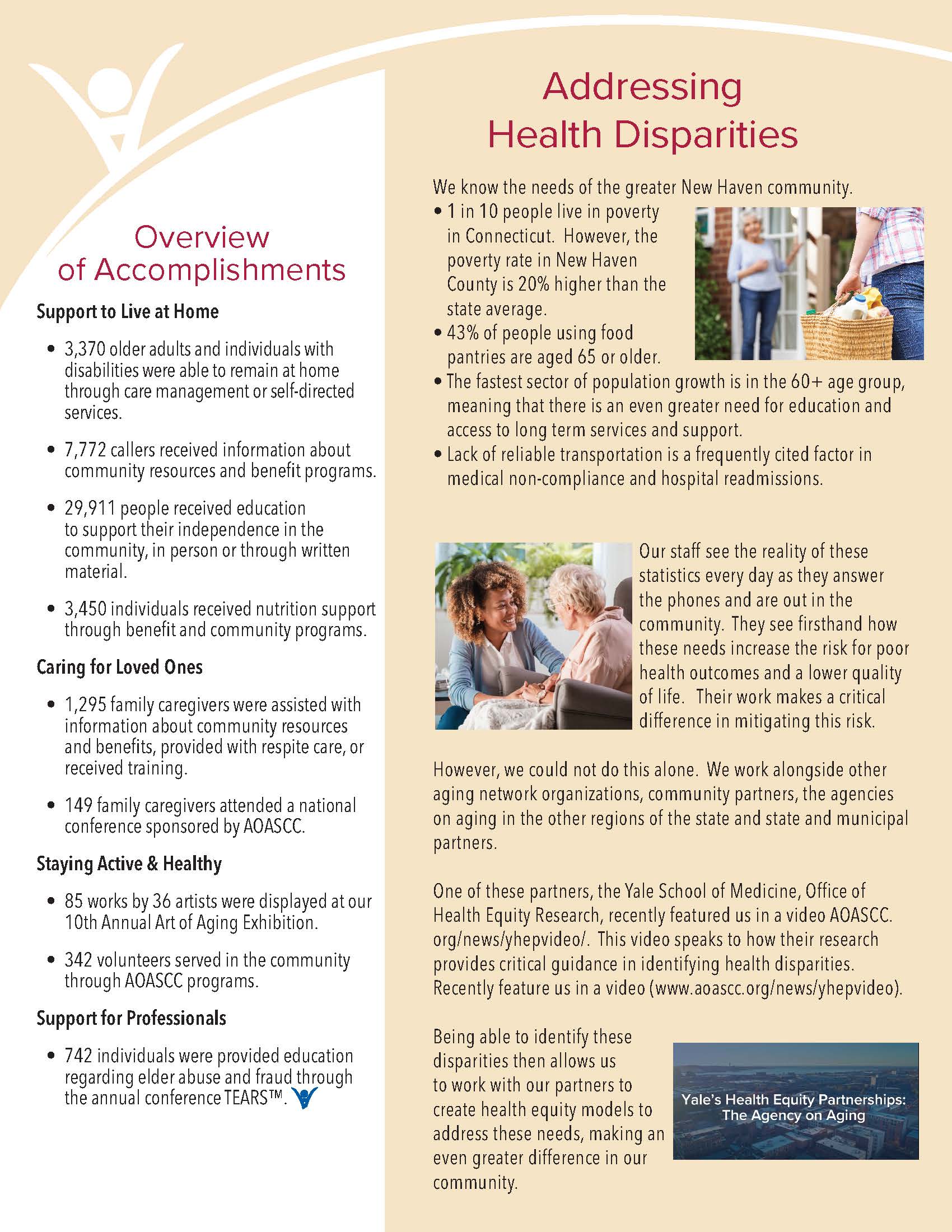 Click Here to read the full report
Link to Yale Video
Dear Friends of AOASCC,
I want to share with you what we've been working on over the last year. In this report, you will see examples of the thousands of individuals we have been able assist with a range of services to help them remain at home and engaged in the community, and the caregivers we have provided with critical supports.
As strong as our community is, we continue to see so many critical concerns for older adults and people with disabilities: social isolation and loneliness, food insecurity, transportation, cost of care, and knowing where to turn for help.
This is why our support for older adults continues to grow -- through care management for in-home services, information about insurance and benefit & community services, and programs that address loneliness and encourage community participation. We see firsthand how critical these programs are for people who want to remain in the community but who do need various levels of support.
We also know the important role that family caregiving plays, and that it can take an emotional and physical toll – so we are continuing to build our services for family members, helping them navigate benefits and services that can support their loved one and connecting them to respite programs for in home support that can offer caregivers a much-needed break. Our trainings and support groups continue to provide education on caregiving topics in a safe and supportive environment where caregivers can share experiences and gain a sense of camaraderie.
As much as we offer here, we know how overwhelming it can be when individuals and families are looking for services, often in crisis, and don't know where to turn. This coming year you'll see more education from us and statewide collaborations as we create a unified message and approach that will decrease that feeling of fragmentation in aging services. As we develop these new systems, access for underserved and vulnerable older adults is at the forefront.
Coming out of the last couple years, we all learned so much about how critical it is to collaborate and have a strong infrastructure for older adults. I could not be more thankful for those who partner with us, as well as Board, Advisory Council and staff. Together we are entering into a year of great opportunities.
Sincerely,
Melissa Lang, DrPH, MPH, MPA, MA
President & CEO