Annual Report 2020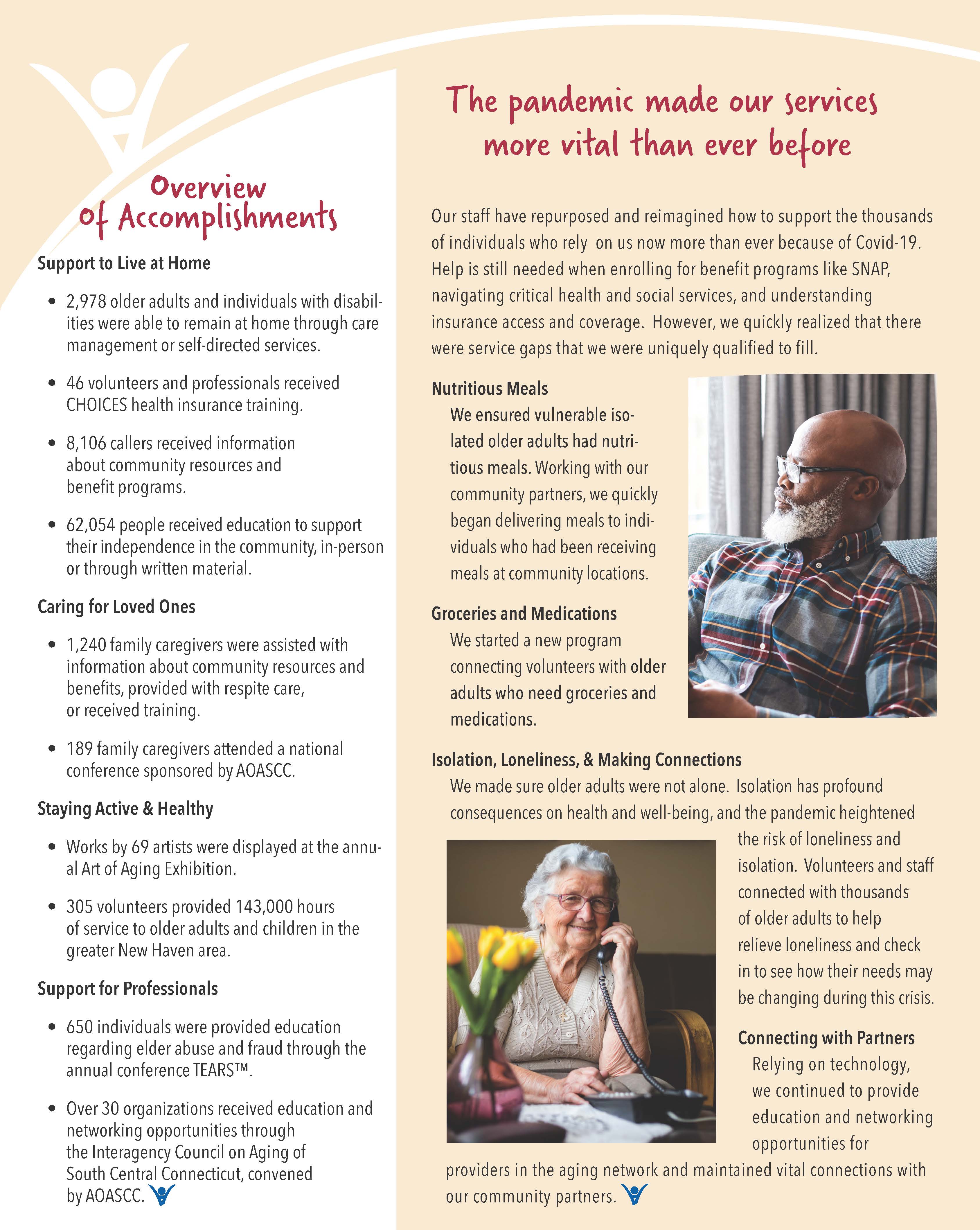 Read the Report
Dear Friends and Colleagues,
This year has been one of extreme challenges and unique opportunities. Little did any of us know what was in store when I joined the agency as President & CEO in December 2019. At that time, our agency had a full complement of programs serving a wide range of individuals. When the stay-at-home order was issued in March, we knew that those who rely on us would need our assistance more than ever, so any disruption to services was simply not an option.
As you will see in this report, we not only continued providing services, but stepped up and added new programs when service gaps were identified. Older adults were at an even greater risk of isolation, food insecurity was on the rise, and we could no longer meet with individuals face-to-face, creating a barrier in starting new services so that they could return to the community or remain safely at home. We not only met these challenges, but did all this while successfully moving staff to remote work and adopting a long list of new procedures needed to keep our staff and everyone who relies on us safe.
None of this would have happened without the support of our resilient staff, Board of Directors, Advisory Council and community partners. I could not be prouder of the staff's amazing work. From quickly setting up home offices to adjusting to new procedures, they kept providing services without interruption. The Board has been an invaluable resource in leadership during my first year and the Council continues to provide the frontline information crucial to our response to the needs of older adults. Finally, we could not do what we do without our community partners who creatively and determinedly have also responded to this new normal.
While this pandemic has required a tremendous amount of our attention, it has also given us the opportunity to see the needs and strengths of the community from a different perspective. We are now re-imagining the future. Using all we have learned, we can build even stronger systems to further our mission as advocates of independence in south central Connecticut. I am looking forward to all that is ahead.
Sincerely,
Melissa Lang, DrPH, MPH, MPA, MA
President & CEO