The Art of Aging
May is Older Americans Month - Celebrate with us!
Art Exhibition open May 17-June 21. Stop by during office hours from 8:30 a.m. and 4:30.
We are located at 1 Long Wharf Drive in New Haven & our office is one floor up from the lobby.

The Closing Ceremony will be Thursday, June 21 from 2:00-4:00 pm. Refreshments will be served. Awards will be presented and artists can take home their artwork. Please bring packaging materials as needed to protect your artwork as you transport it.
Best in Show
B by Dennis Gentle is worthy of intimate observation. The composition is strong. The lone dominate vertical of the mast and the smaller verticals of the people provide counterpoints to the horizontals of the land and sea. The precise details are deftly rendered and balance the looseness of washes, mostly in close values. A wonderful painting reflecting traditions of both Eastern and Western art.
Laurel B. Friedmann, Juror

Best in Photography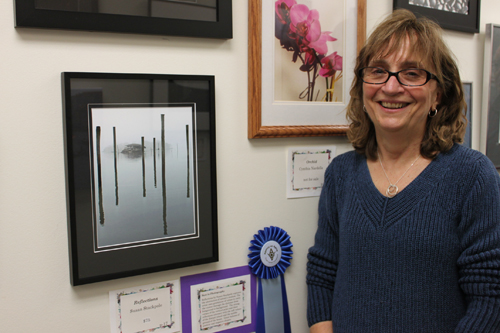 Reflections by Susan Stackpole captures the abstraction of nature's realism. The artist uses gradations of values to carry the viewer through the distance from foreground to background. The strong values of the vertical poles and their reflections intersect with the soft values of the distant island and the middle ground of the house. Great balance of positive and negative shapes.
Laurel B. Friedmann, Juror

Click here for more pictures from this year's exhibition.


Thank you to our sponsors