Experience Corps
"It's always a great feeling to see the excitement on a student's face when they finish reading a book and take it home. I've received lots of hugs and thanks."
Who We Are

Experience Corps – Greater New Haven is a local affiliate of an award-winning national program.
EC volunteers tutor young students who are struggling to learn to read. EC tutoring focuses on improving students' reading fluency during biweekly, 30-minute structured tutoring sessions.
Training is provided before tutoring begins (October 1st) and throughout the year along with support and supervision from Experience Corps staff.

How Volunteers Make a Difference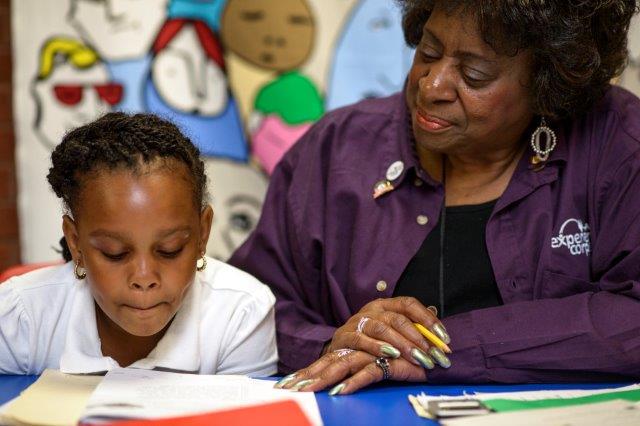 There is a consensus across the education research community that it is critically important for children to be reading at grade level by the end of third grade. This research has demonstrated the correlation between a student's reading ability at this age and subsequent academic success.
The Experience Corps approach is simple but effective: trained older adult volunteers (age 50+) tutor 1st, 2nd, and 3rd grade readers individually in school, after-school, or virtual settings. In biweekly, 30-minute structured sessions, volunteers focus on improving students' reading fluency, an essential skill for reading comprehension. It is the older adult volunteers that make Experience Corps unique; they bring a wealth of experience and a lifetime of love of reading to develop strong mentoring relationships that encourage reading.
Studies have demonstrated that Experience Corps tutoring improves both students' reading fluency and also their social-emotional skills including decision making and motivation to succeed. Our program is nationwide, with more than 3,000 tutors helping nearly 15,000 students every year. Affiliate and branch locations are found in 21 cities, with Detroit and Houston joining in the last year.
What is Required
You must have good reading skills, a love of reading and learning, enjoy being with young children, patience, flexibility, an open mind and dedication. No prior teaching experience or experience working with children is required. No prior teaching experience or experience working with children is required. Familiarity with computers and Zoom helpful.
Volunteers must be at least age 50, have earned a high school diploma or equivalent and must pass participate in a free background check including fingerprinting.
---
Time commitment:
TRAINING: October: 20 hours of new tutor training including completing online course modules, group Zoom training sessions, and small group and individual practices; Ongoing: regular workshops (45-60 minutes - virtual, possible in-person later on)

TUTORING SESSIONS: Minimum 2 assigned students with 1 hour per student per week plus preparation and coaching time

TEAM MEETINGS: monthly 1-hour Team Meetings for peer learning and support, and supervision
As an Experience Corps volunteer, you will:
Help young children become better readers and students,
Share your love of reading and learning,
Watch children learn and grow,
Have fun & make new friends,
Learn new skills & enhance ones you already have,
Stay mentally active, and
Make a real difference in the lives of the children you tutor – and your community