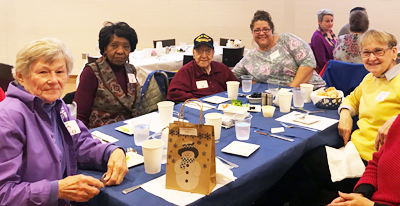 In January the RSVP and Experience Corps programs held an Appreciation Luncheon. It was wonderful to witness perfect strangers who have so much in common - the willingness to give to others! There were volunteers from every aspect of service; from Friendly Visitors and Money Managers to tutors, knitters and pen pals.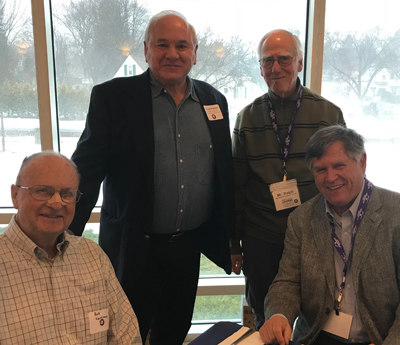 Meet one of our newest volunteers, Fred who celebrated his 101st birthday in January. Fred is a member of the Veteran Pen Pal Project, corresponding on a regular basis with a middle school student. Fred also is a recipient of the Friendly Visitor Program. Fred's volunteer, Dick, is also a veteran so they have a lot in common. Dick is going beyond "friendly visiting" to help Fred get his Purple Heart as he still has shrapnel in his body from his time in WWII.
Meet our new Experience Corps volunteers. Bill, is combining his talents as Pappous (Grandpa) with his love of reading while tutoring students in New Haven so that they can become better readers. Nancy at an after-school program in New Haven makes learning to read fun for her students.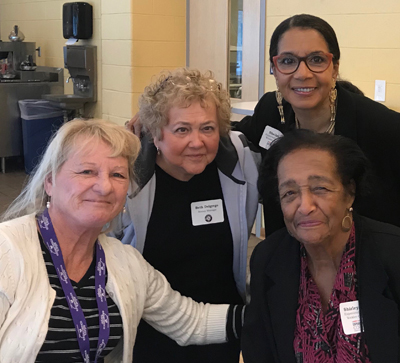 Then there are volunteers like George who not only tutors at Clintonville school, for his 2nd year in a row, but also takes his client, Lacey, shopping each month. Money Management Volunteers, Ralph, Bob and Beth work with clients in maintaining their homes and independence, a daunting task at the least, but one in which they are totally committed to sustaining.
And let's not forget the Bella Vista Knitters who work hand in hand with r'kids to ensure that the families, and especially the children, have school supplies, warms hats and mittens and gifts for the holidays.
Bravo to all of the wonderful Volunteers of the Agency's RSVP Program. Every single one of them making a commitment of time and energy to a pure stranger. And those strangers, unknowingly, make an impact on the volunteer. Find out more!
RSVP is funded through the Corporation of National and Community Service
---
Comments: