Whether on notebook paper or beautiful stationary, the importance of receiving a letter was always what was inside. It could be the answers to your questions or details of adventures or plans to see one another. This same excitement remains the same with two Pen Pal Projects coordinated by our RSVP Volunteer Program.
Students from Branford and Hamden middle schools are paired with seniors, including a group of veterans, and communicate through handwritten letters! Yes, can you believe? Handwritten letters were exchanged and, in some instances, in cursive! In many schools, cursive is no longer taught and many students have never experienced the process of handwriting a letter to someone, let alone a stranger.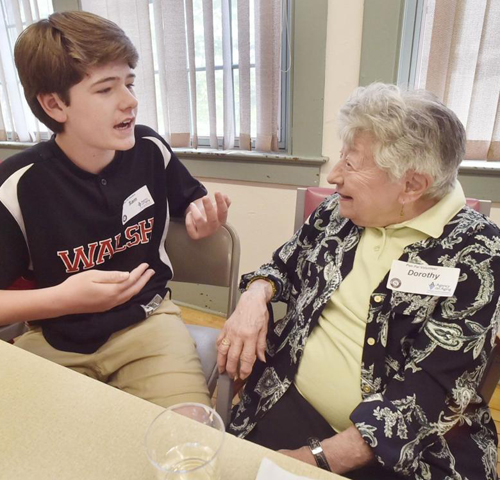 The Branford Pen Pal project, in its 3rd year, made it to the front page of the Shoreline Times, and the local news section of the New Haven Register. Volunteers corresponded with students from the Leadership Program throughout the school year and learned much about each other. At the end of the year party, held on May 15th they finally got to meet. There were many hugs and little lack of topics to discuss. It was a very exciting time for all involved. The group also enjoyed a friendly dance session where it didn't matter what your age, you are smiling and enjoying the moment with a new-found friend! Sam and Dorothy, along with Mallory and Pat, are celebrities!! Click here for a copy of the article.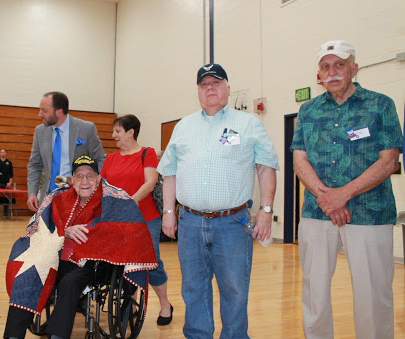 In Hamden, veterans from all over attended the Hamden Veteran Awareness Event at Quinnipiac University. During this event, veterans who participated in the Pen Pal Project finally got to meet their student Pen Pals. It was an exciting day for all involved, as curiosity from the students blossomed into stories of service, family and beyond. One of our Veteran Pen Pal Volunteers, Fred Baselice, was honored with a Quilt of Valor. Fred is 101 years old and enjoyed participating in the Pen Pal project, not only because of the students but because it was through Pen Pal correspondence that he got to know, meet and then marry his wife of 68 years!!
---
Comments: