Over 300 professionals from across the state of Connecticut gathered in North Haven at the TEARS™ Elder Abuse Conference on October 15th.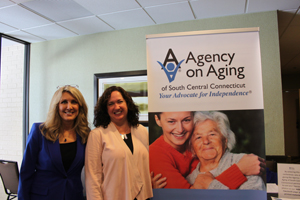 The morning session was presented by Keynote Speaker Dr Becky Beaton Ph.D. on the topic of Hoarding Disorder. Dr. Beaton is the treating psychologist on the hit reality television program "Buried Alive". The afternoon session focused on "Bullying in the Elderly population" and was presented by Donna Fedus, CEO of Borrow My Glasses.
The event was sponsored by Keep Me Home, The City of New Haven along with the Marrett Fund, Connecticare, The Mary Wade Home, Caregiver Homes and Home Helpers in conjunction with AOASCC.
Participants in the conference received a Resource Guide with contact information for emergency hotlines, food assistance, and other service agencies. Visit our information library for more resources.
AOASCC President & CEO Ted Surh and Jane Wisialowski, Director of Business Development, also unveiled the campaign, "Stop Ageism Now", during this event. In the words of one attender, "This is a very important campaign that's needs to be shared and reinforced more often." Visit StopAgeismNow.Org and add your voice.
pictured: Keynote speakers Becky Beaton and Donna Fedus.
---
Comments: