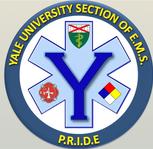 AOASCC continues to partner with Yale University Department of Emergency Medicine, several VNAs and nine municipalities to promote the P.R.I.D.E. (Paramedic Referrals for Increased Independence and Decreased Disability in the Elderly) Program.
P.R.I.D.E is a community-centered intervention program designed to help older adults and persons with disabilities to remain safely in their homes by providing no-cost help from paramedics, nurses and doctors. This program has been instrumental in assisting individuals who are at risk for falls, have fallen or who have had to phone 911 for a lift-assist.
Individuals in the following towns and cities are eligible for this free program: New Haven, East Haven, West Haven, North Haven, Branford, North Branford, Guilford, Madison and Meriden.
Visit the website at www.pride-ems.org to:
Make a referral
Access information to make the choice if P.R.I.D.E. is right for you
Contact the P.R.I.D.E. office for in-depth, personalized answers
Schedule an appointment
Referrals can also be made by calling 1-877-978-8343.
P.R.I.D.E. is funded by a grant through the Centers for Medicare and Medicaid Services Innovation Center in partnership with Yale University Department of Emergency Medicine.
---
Comments: