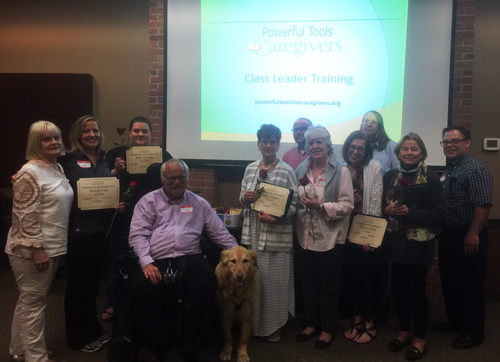 We recently saw two of our staff graduate as trainers for the Powerful Tools for Caregivers (PTC) workshop series. Tom Davis and Patricia Soos have joined Jan Simmons as workshop leaders, expanding our capacity to provide this valuable class. Find out more about PTC.
Patricia Soos knows the value of this program first hand. She was a caregiver for her mother, who had Alzheimer's, for five years. She made the hard decision to leave a career she loved to care for her mother. This is a choice that she does not regret, although being her mother's caregiver was the most difficult thing she has ever done. However, Patricia wishes she had known about the resources available to caregivers then. She now knows that caregivers do not have to be alone.
After her mother's death, Patricia's career focus changed. She knew she wanted to use her experience for others. She was hired in the Aging and Disability Resource Center to work in the respite programs. "I could immediately relate to what the families were going through. It's different when you've been there."
She is excited about becoming a trainer for PTC and working with Tom Davis. "He is a wonderful person to work with." She especially values the experience he brings from being a trainer for the Live Well classes. She is expecting that they will make an "amazing team."
When asked about the benefits of the Powerful Tools for Caregivers workshop, Patricia explained that it gives caregivers the ability to step outside their situation and take a look from the "outside in." The program equips caregivers with tools, helps them create goals and, most importantly, helps them learn to be more effective communicators with their loved one and others. She adds, being a six-week program, caregivers really get the support they need and usually walk away with lasting connections with other caregivers. It is vital, she says, that caregivers know that they are not alone. Being part of that process with them, she says, "makes me proud."
Would you like to know when the next workshop is scheduled? Click here.
---
Comments: